AS MANY OF YOU KNOW BY NOW OUR LAST CT SCAN REVEALED 2 NEW QUATER SIZE TUMORS. WE ARE LOOKING FOR PRAYERS,  WE ARE NOT LOOKING FOR PITY. AS WE WANT TO EDUCATE PEOPLE ON THIS REAL LIFE ISSUE WE HAVE TO ENDURE DAY IN AND DAY OUT.
I DON'T THINK PEOPLE UNDERSTAND HOW DANGEROUS IS AN ASBESTOS GROWN CANCER . THIS ARTICLE WOULD GIVE YOU A BETTER UNDERSTANDING ON THE TYPE OF CANCER WE ARE FIGHTING.
What is Peritoneal Mesothelioma?
Peritoneal mesothelioma accounts for 20 to 25 percent of all mesothelioma cases. It is the most common diagnosis after pleural mesothelioma. Peritoneal patients have longer life expectancies than those with other types of mesothelioma. Some studies report patients living upwards of 5 years after cytoreductive surgery.
Diagnosis
Diagnosing malignant peritoneal mesothelioma is difficult due to non specific signs and symptoms. It is often confused with abdominal distension (gas) and irritable bowel syndrome. Most patients do not experience symptoms until the disease has progressed. CT scans are the most useful imaging tool to initially test for peritoneal mesothelioma.
Doctors may also use a technique called peritoneoscopy. During this procedure, a surgeon makes a small incision on the patient's abdomen and uses a small camera to explore the abdomen. There is also a tool on the camera that helps to extract tissue on the peritoneum to test for mesothelioma. These tissue biopsies are needed for confirmation of a diagnosis.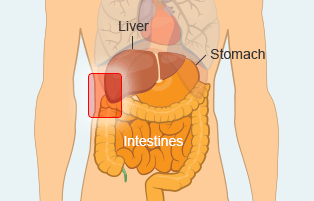 Doctors do not use a standard staging system when diagnosing peritoneal mesothelioma. Generally, before the tumors start to spread, the disease is centralized to the abdomen. As it progresses to stage 2, the mesothelioma may spread more but is still contained in the peritoneum. In the final stage, stage 4, the mesothelioma has spread to other organs, such as the liver and colon.
Prognosis
Although there isn't currently a cure for peritoneal mesothelioma, many patients have a hopeful prognosis. The median survival time for patients who have not had the cytoreductive surgery is about a year; however, in patients who have had the surgery, survival times increase by up to five years. The most successful cases are those whose mesothelioma is detected in the earlier stages and begin treatment immediately. Most of theses cases include a cytoreductive surgery and HIPEC.